John M. Perkins Jr.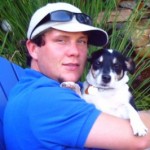 Submitted by Elizabeth Perkins
My beautiful boy, John, lost his life several years before he died. A very emotionally traumatic experience at the age of 18 set him on a course of hopelessness, including addiction. I tried everything to keep him alive, always afraid that even love was not strong enough to keep him safe. We lost him on 5-5-11. His paternal grandmother died the same day in the same hospital. It was 4 days from my 60th birthday and Mother's Day. My world changed forever.
Last 5 posts in Their Stories
One Response to John M. Perkins Jr.