Josh George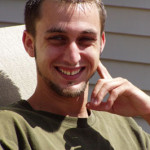 Submitted by Rose George
My son Joshua Aaron his drug problems started back in 2003 , we had put him in and out of rehabs , he was constantly getting pulled over from the police for having a pipe with pot residue , one arrest he had cocaine residue in a straw, so it was as if the police were always watching him. He learned well in the rehabs but never applied it, because he had a disease, he once told me that he had two voices one his regular voice and one his drug voice, and that drug voice screamed at him and his voice was a whisper.
He actually was doing pretty good and in October 2010 he married a young lady that had two daughters. He always hated taking pills but since he could no longer smoke marijuana because of his arrest he was regularly tested, so his wife talked him into trying pills and he got addicted to them.  He figured out what days he could do them and still pass his testing. Once he was out of control she left him, so he was in the middle of a divorce.
August of 2011 we had him cleaned up very good, than at the end of the month he started getting sick, he lost 30 lbs within 2 weeks, they finally put him in the hospital and discovered he had a hole in his stomach about 2 inches in diameter, we almost lost him then he was so sick.  He came home to live with his father and I first of October.  He so wanted to change his life from the fear of almost dying, he did very well .  His body was not back to normal yet he had gained his weight back but not the muscle.
One of his drug buddies the whole month of November continued to text him wanting for him to come party.  Josh ignored all of those text. On December 1st for some reason he went to this kids house.  The kid gave him a few Xanax, and the next day his phone is full of texts trying to find more pills.  He worked here where I do, and a lady from here sold him 60 pain pills and some Xanax.  
I had talked to him before I left work that day, he looked good had told me he moved all his things back to his place and even got his Christmas tree up.  That night after work, he went to his friends house they indulged in the pills and he never woke up.  The next morning they found him at 8 am but decided to get rid of all the pills before calling us at 9 am before they even called the police.
He was 13 days from a divorce.  We had never buried anyone, so we had no clue how it all worked, and the funeral home never even mentioned life insurance.  They only told us we had 30 days to pay for it.  So we refinanced our house in order to do so.  We had to have his now widow to sign a sheet simply stating we could plan the funeral, nothing about finances.   Afterwards we found out he had $82,000 in life insurance but had never changed it from his wife's name.  Because we had already paid for the funeral, the insurance company gave his wife the money. She would not pay us back for the funeral , she basically took off with the money and will not speak to us, legally there is nothing we can do.
I want to let everyone know that it is a rule of thumb that the insurance company will first check with the IRS if they owe any money than check what payment there is on the funeral before letting the money loose.  So please if you are ever in a situation like this ask questions!!!!!
My son had a disease yes but he was the most kindest person you will ever meet.   The kind that would help the older ladies in their neighborhood with their groceries or anything they needed.  He had a smile that would light up the room, but he was sick with a disease and after spending $20,000 dollars on rehabs, we could no longer afford to do that, and any counseling you found at a low cost didn't help, because the people in there were court ordered to be there.  So there is no help out there. I want to fight this war against drugs. Our country needs to fight against this war instead of fighting for other countries problems.  I hope my story can at least give some insight in some way that will help someone <3 I miss him everyday, every minute of the day <3
Last 5 posts in Their Stories